BEEKEEPER PRODUCT UPDATES
The Beekeeper platform is always evolving! Check out the latest updates below.
Excel Download for Form Submissions
In addition to automating workflows to share form submissions with team members in Beekeeper, Admins can now download form submissions in an Excel format from the Dashboard.
With Forms on Web, employees on desktop or tablet can submit forms in Beekeeper too! Forms can be viewed and submitted by going to the More tab on web and selecting the form.
Boost operational efficiency and safety. Deliver digital work instructions in Beekeeper from SwipeGuide. Click here to learn more.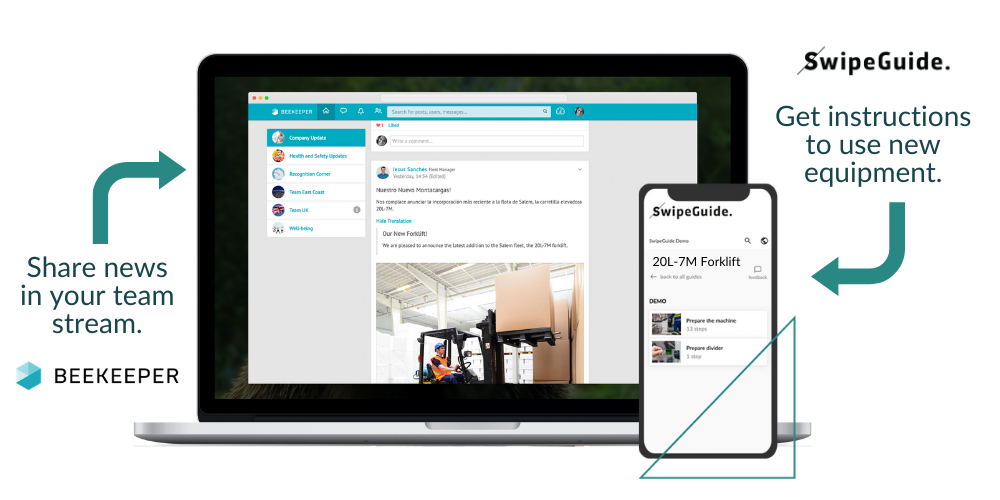 Give your support teams a closer look from far away. Share video of industrial equipment from Pandia with remote support teams in a Beekeeper Stream. Click here to learn more.
Connect the head office to the frontline with Beekeeper's Slack integration.
Share Posts into Beekeeper directly from Slack, or send form submissions from Beekeeper to a Slack channel, without buying double licenses.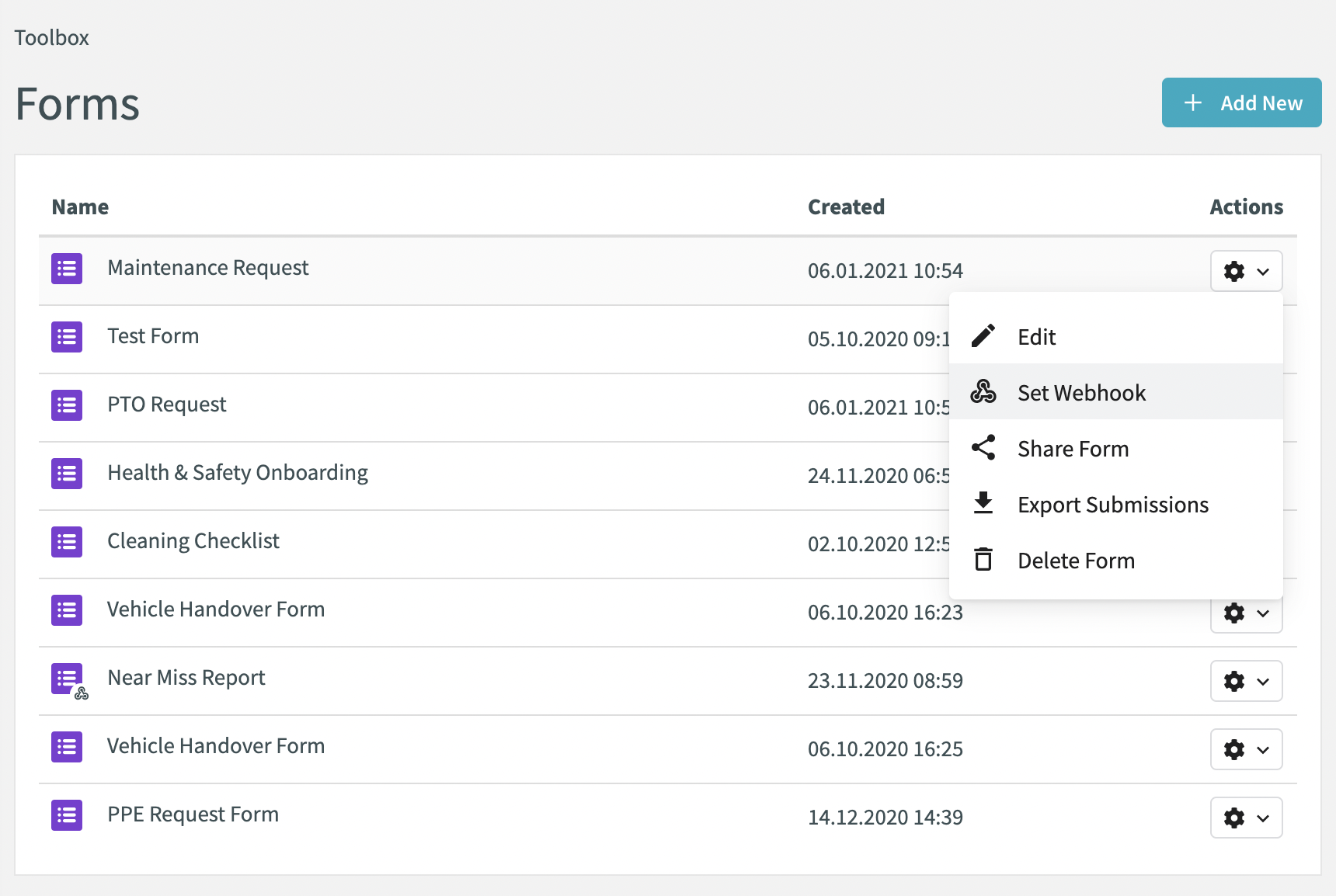 Send Form Submissions to...
With webhooks for form submissions, you can send form submissions to 3rd party systems (email, your HR platform...etc) the moment a team member hits "submit".
Improvements for Desk Users
The author of any poll can now download the results as a CSV file, even if they are not a Stream or Global Admin.
Also, team members can now access a menu to either view a coworker's profile or start a conversation with another user, just by hovering over their avatar.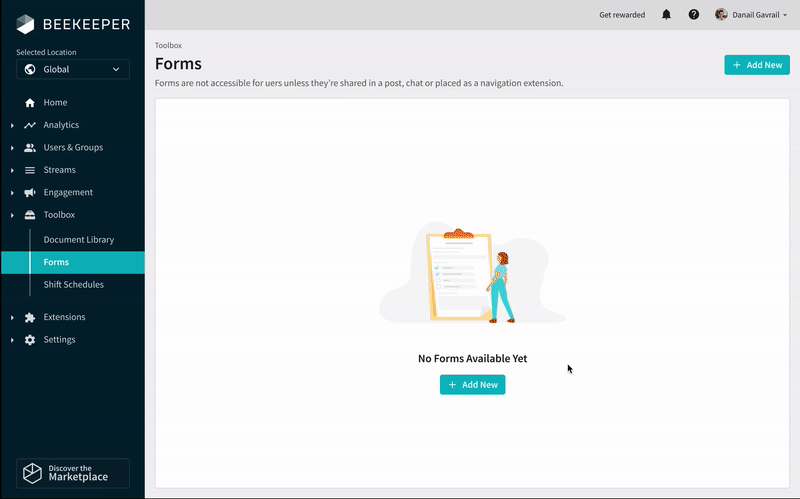 Build, edit, and share your own custom digital forms from the Dashboard. Plus, cover more information by adding in new fields like a drawing field and a file/image upload field.
Discover new Streams and navigate back and forth between Streams more easily on mobile with updated Stream navigation.
Coming soon: whenever you reopen your app, just click the Streams icon in the bottom nav or the back arrow in the top left corner of the screen to access a list of the relevant Streams for your role or location.
When an Admin or Moderator deletes a Post or Comment, the author receives a Chat message notifying them by default.
Now, Admins have the option to turn these messages off with the "Send message to author" feature flag in the Dashboard.
Campaigns & Surveys Update
Ever sent a Campaign or Survey before it was fully ready? Now, you can permanently delete a Survey or Campaign from the Dashboard and remove it from recipients' inboxes.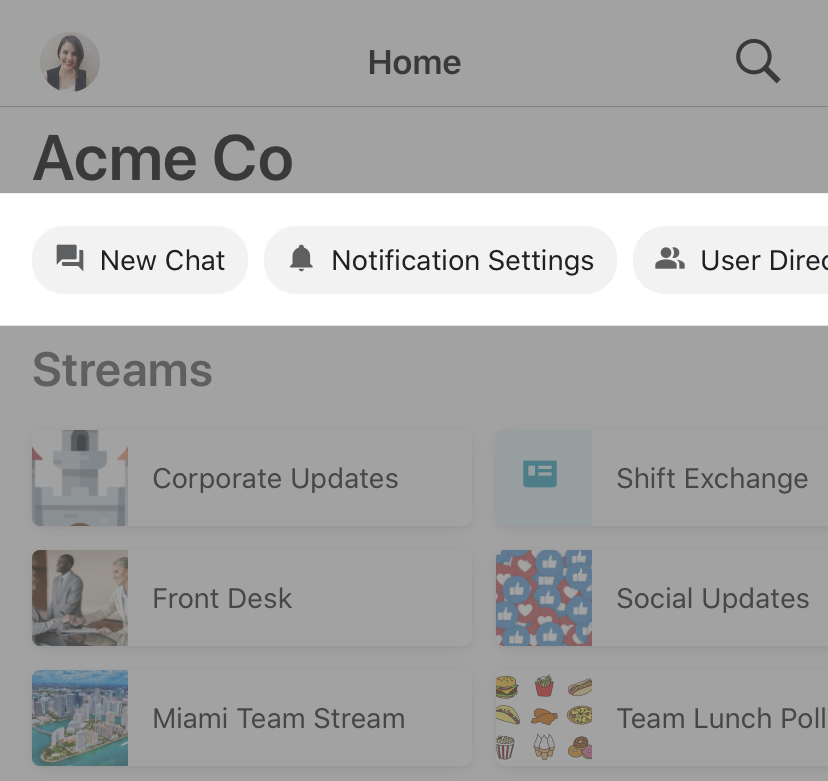 "Quick Actions" Home Widget
Start frequently-performed actions with one tap from Home!
Access Notification Settings

Start a Chat

Find a Coworker
Automatically send push notifications and update team members' shift calendars in Beekeeper when shift schedules are published in Kronos Workforce Dimensions or Workforce Ready.
Get more information about who is typing, and navigate Chats on the web app more easily.
See up to two names when users are typing

View the date and time messages were sent on the web app
Ceridian Dayforce Integration
Automatically create, update, and remove Beekeeper users with a new Ceridian Dayforce user synchronization app. Learn more here.
Automate user management, send payslips, and share PDF HR documents automatically from Abacus via Beekeeper Chat. Learn more here.
Home is the new entry-point for the Beekeeper mobile app. Users can find Streams or shortcuts to frequently-used tools and documents.
Up next: Extend Home with custom widgets!
Beekeeper's mobile interface got an update! The new design prioritizes legibility and accessibility, with higher contrast, more spacing, and larger font sizes.
Get in-depth, actionable data and feedback for frontline managers. With this integration, managers can easily share pulse surveys via Beekeeper Chat and make decisions based on powerful analytics. Learn more here.
Connect Beekeeper to SharePoint to automatically mirror select SharePoint folders and files in Beekeeper's Document Library. Learn more here.
Inline Translations for Chats, Campaigns and Surveys
With this expansion of Inline Translations, multilingual teams can save time by instantly translating Chat messages, Campaigns, and Surveys directly in the Beekeeper app.
© 2013 - 2021 All Rights Reserved. Beekeeper is a registered trademark of Beekeeper AG.